The exclusive VTech Kid Connect™ app lets kids and parents send text messages, stickers, *voice messages, *photos and *drawings back and forth so they can keep in touch anywhere! With fast and easy tablet-to-mobile and tablet-to-tablet communication, kids can safely join in digital communication—just like mom and dad.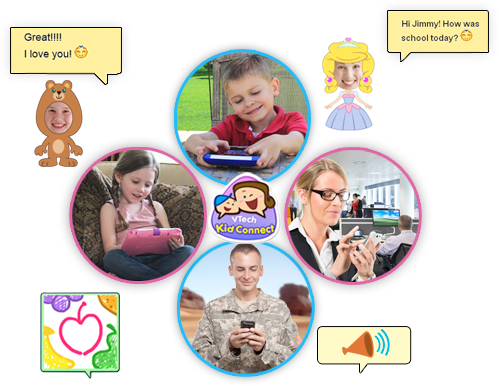 Hear your child's voice, anytime, anywhere.
With Kid Connect Premium*, you'll see a voice message icon. This feature is great for those times when you just need to hear the sound of your child's voice. Voice messaging lets you and your child record up to a 10 second message.
Photos and Drawings
Also available through Kid Connect Premium* you can send photos and drawings. Touch the photo icon and the InnoTab® 3S will open the photo album so you can choose an existing photo. Or press the camera icon to take a new photo. Touch the drawing icon and use the simple drawing tools to create a picture to share with family and friends!
It's so easy to text each other
Now kids can send and receive text messages too! To send a text message, a child simply chooses a contact and touches the text message icon. Use the onscreen keypad to type in a message and then touch the send icon.
Stickers
Touch the Stickers icon and you can send 12 different stickers (30 when you upgrade to premium) for a fun way to express yourself.
Kid Connect, only available with VTech's InnoTab 3S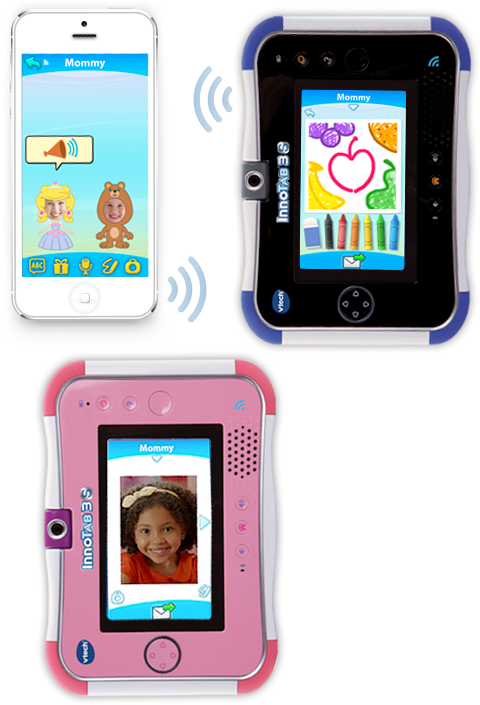 Your Child's InnoTab 3S
Register the InnoTab 3S on VTech's Learning Lodge™ at vtechkids.com/download, then sign up for Kid Connect. Each InnoTab 3S lets up to four kids have their own profile.
Your Smartphone
Download and install the free mobile version from the App Store or Google Play*. Start exchanging messages with your child in no time!
Your Peace of Mind
Only parents can send and approve friend requests on behalf of their child giving you assurance that your child is communicating in a safe way, no matter where they are.
*Compatible with iPhone® 4 or above; iOS 5.x or above, and Android™ 2.3.3 or above; minimum resolution: 320x480.


What would you like to be?
The first time you enter Kid Connect, you'll be asked to create an avatar. Using the camera on your InnoTab 3S or smart phone, take a picture of your face, then choose a costume. There are five fun costumes to choose from: a bear, princess, knight, ballerina and superhero. The avatar of the person you are speaking to will appear next to your avatar in the message window.
Contact Lists
Kid's contact lists are simple. It includes a list of people who have been approved only by the parent. When a new message is received, an envelope icon will appear next to the contact's name. Parent's contact lists contain their Kid Connect contacts as well as their child's contact list. This is where you can edit who your child can send messages to and who can send messages to your child.